Artisans
Ida
Founder of HoD
"I feel like to run HoD is a big step in my life; a way that I thank God for what He has given me (talent and ability) and that makes me happy."
Lila
Founder of HoD
"I love helping and sharing with the women so they can learn a skill and they can be close to their family while working; because I believe a mother is like a light in her home."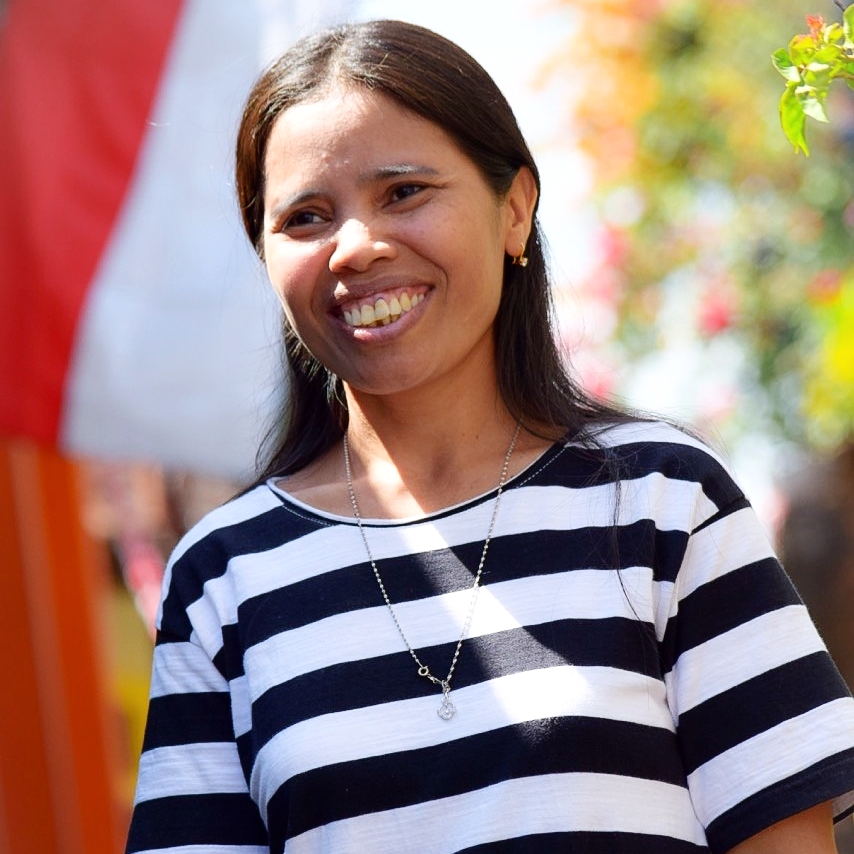 Ita
joined HoD in 2016
"It is a new experience for me to learn to sew, I like that I can work and watch the children."
Ilmi
Ilmi was married at a very young age with a baby son following a year later. They lived simply as farmers in the village a few hours outside of Malang. Her husband's work wasn't enough to provide for the family so Ilmi looked for work in Malang. She found works as a housemaid for westerner. It was a good paying job, but she had to live in the city and work away from the village from the time her son was a baby for 11 years. Ilmi learned about HoD and how women could work from their homes, so she came to ask for work in 2016. She drives into Malang every two weeks to drop off work and pick up new work before heading home to be with her family again the same day.
The biggest change we've seen in Ilmi, is the joy she feels getting to be at home with her family again. She just wanted to be with her child and parents and husband. She feels more confident and feels at ease being able to provide for her family. Ilmi is very hard working and always wants to learn. She also brought Ella, her niece, to join HoD. Ilmi just welcomed her second child in 2018 after waiting for over a decade! See more of Ilmi's story here.
Un
Ibu Un worked long hours at a garment factory making Rp15.000-25.000 a day (~$1-2 USD) for 20 years. Tragically, she was diagnosed with breast cancer and wasn't able to work anymore. After treatment and surgery, she was ready to fight. She wanted to work and her neighbor, Siska, brought Ibu Un and her daughter, Dwi, to HoD in 2016.
We have seen so many changes in Ibu Un. She is so excited that she is still able to work and contribute to the family even while undergoing chemotherapy. She didn't feel useless, like a sick person who just needed to be taken care of. She recently finished her last chemotherapy in mid 2018. With her HoD wages, she is able to afford supplements to help her health recover. She brings a joyful youth to HoD and her enthusiasm and smile are absolutely contagious!
"I am pleased I can work at home, it's not strenuous. I can forget my sickness, because my heart is happy and I can use my energy."
Ani
Meet Ani! Her beautiful smile and contagious laugh light up our workroom. Ani is a perfectionist when it comes to hand-stitching, so much so that HoD owner, Ida, says she never worries about the quality of her work. Ani is honest and caring and always builds people up. Even in difficult times, we can count on Ani to supply lots of positivity and energy to our team. So grateful to have her as one of our Diamonds.
"It makes me very happy to experience new things and learn about sewing. When we are together, we share with one another about many things. I can earn money without having to work out of the home."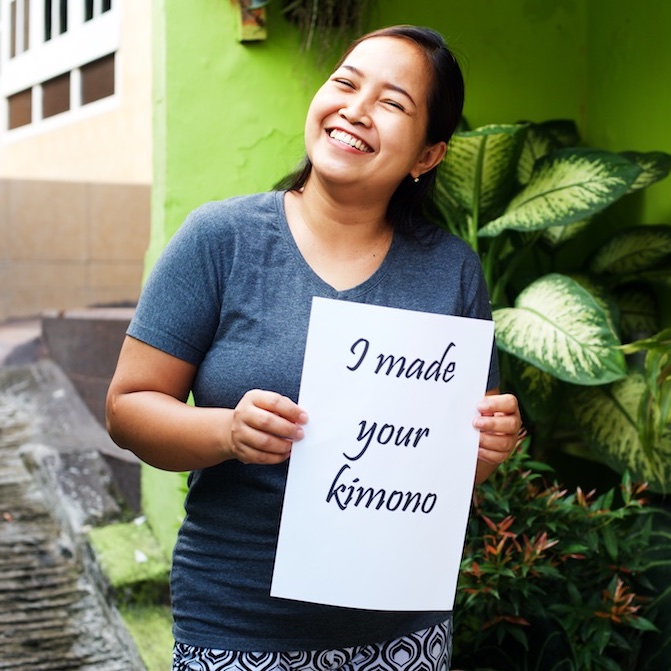 Alfiah
Alfia used to work for a garment factory, sewing shirt panels together. She was able to work from home but had to supply her own machine and thread. She received Rp120 per shirt, earning about Rp30.000 a day (~$2.50 USD) working from early morning till late night. She did this for 12 years and the pay was always the same. In the midst of this time, she delivered her only child, but the delivery was very traumatic, requiring an operation and an extended stay at the hospital. Alfia went into great debt for the whole thing. It was hard to pay down the debt with her daily wage and she barely made a dent for the last 9 years. She learned about HoD from her neighbor, Ririn, and joined in 2017. By working hard partnering with her husband and using her new wage, they have been able to pay down the debt and as of today the debt is almost gone. Alfia is disciplined, reliable and dependable. She loves to support her fellow workers, and devoted special attention to Ibu Nunuk during her recent miscarriage. The biggest change we've seen in Alfia is that she's more joyful, the burden of her debt almost gone and she's now making plans to save to buy her own home.
Dwi
A few words about this lady. This is Dwi. She has been with HoD for a while now after 12 years in the Malang sweatshops making about $2/day. She is Loyal to her family: standing by her mother as she went through breast cancer and providing financially for her kids. She is Reliable and Dependable. She does what she says she will do, never complaining. As HoD founder Lila said, "Dwi is a Humble woman, always smiling. Her Gentleness is her Strength." Dwi has been redoing her house with HoD salary: tiling her kitchen floor, now has a proper bathroom, and was able to add water to her house.
"I am proud because I can make beautiful quilts and I can work from home, I don't have to leave home to find work. It makes me feel like an extraordinary woman: I can work, take care of my kids, and get a good salary."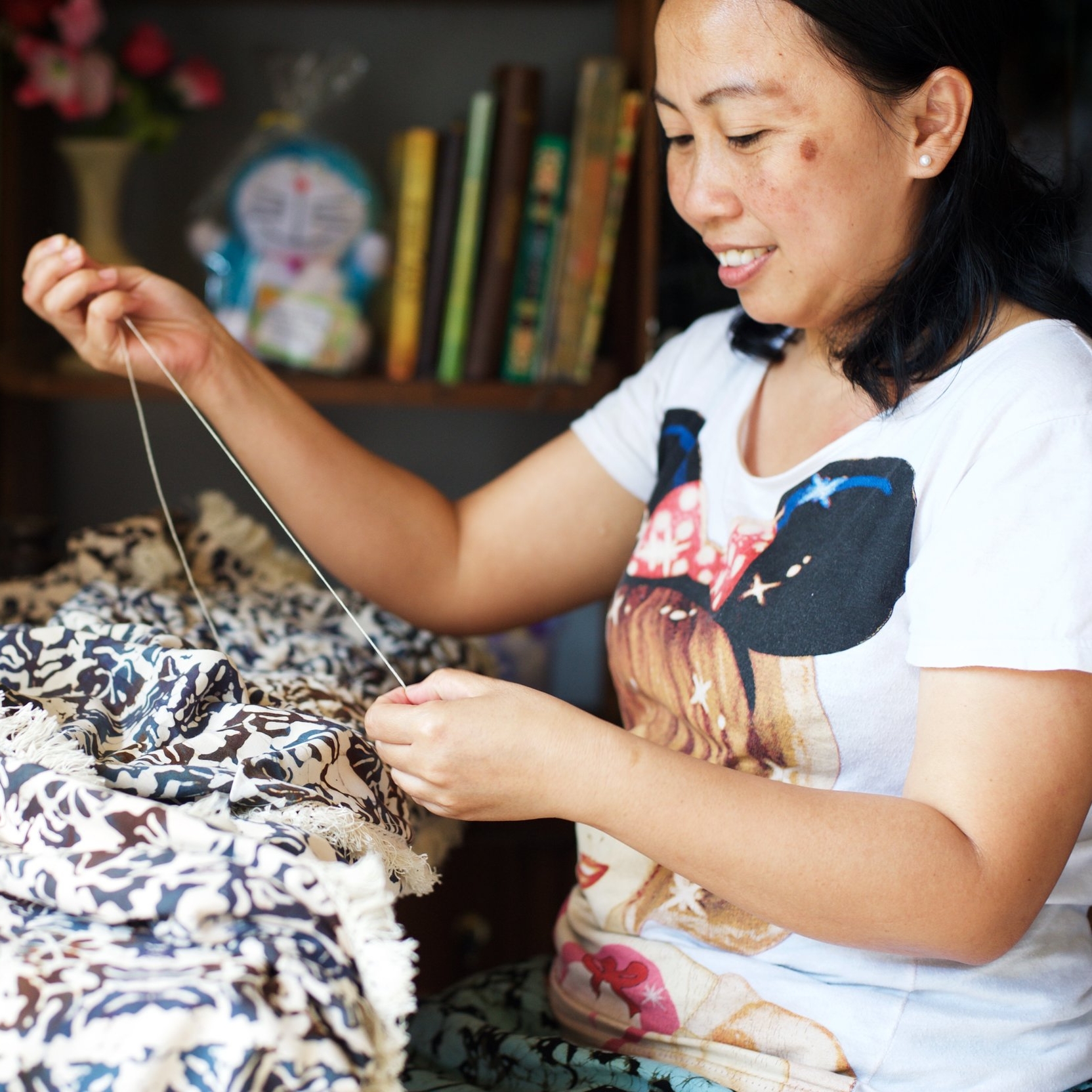 Ririn
12 hours a day for 16 years. She missed most of her children's childhoods. Underpaid and in debt just to make ends meet. The story of life at the garment factory that is all too familiar for many women in Indonesia. But in 2016, Ririn came to House of Diamonds and her life began to change. She learned to sew and was paid a worthy wage. But she also found friends and respect. She kept taking on more challenges and growing in her responsibilities. Now, Ririn is one of our top and most dependable producers. She's a natural born leader among the HoD ladies and a pillar in her community where she recently started a kids program teaching them English and giving kids safe activities to do on the weekends. We love Ririn and what she brings to the HoD team!
"I am thrilled and happy I can work without pressure. It makes me healthy and happy. I can get supplies for my kids' school and I can help my mother."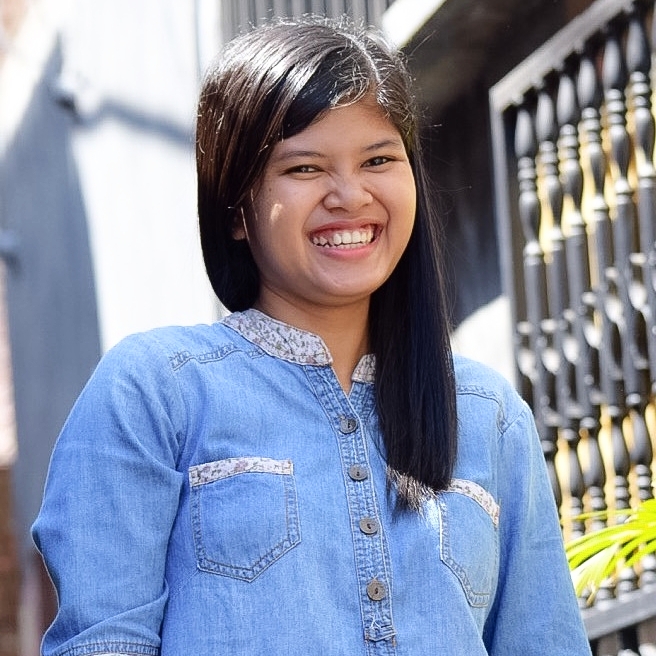 Anita
joined HoD in 2016
"I can work and watch my son, I can also bring my work home with me. Ida and Lila's house is near to mine. I am able to earn money to provide for my son."
Ella
Ella wanted to go to college to study accounting, but there was no way her family could afford it. Her aunt, Ilmi, told her to join HoD so she could earn a good wage and start saving for college. Ella started working with us in 2017, learning how to sew and gaining confidence. Ella's family situation is still difficult as they are very poor, so she has had to use her funds to help the family. But we are hoping and encouraging her to realize her dream of college one day!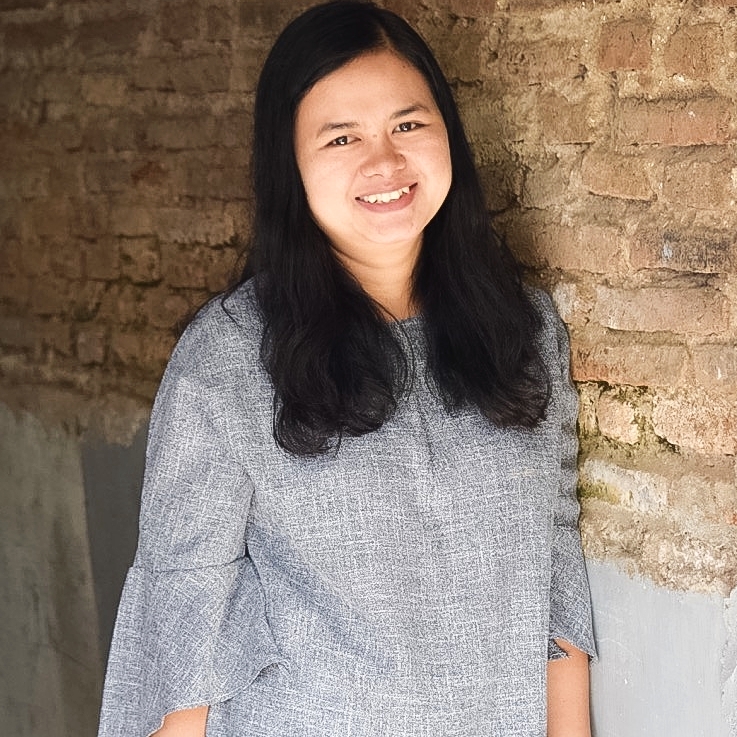 Maya
joined HoD in 2015
"I am very happy because I can work at home and every morning I work to clean a dormitory, so I am able to help my husband and son and add to our success."
Nunuk
Nunuk used to work at a school canteen, making Rp20.000 ($1.75 USD) for 12 hours a day for almost 7 years. Her neighbor, Ririn, brought her to HoD in late 2017. After only working with HoD for a few months, Nunuk encountered a very difficult pregnancy and lost her baby. The HoD family was able to step in and be with her, pray for her, and provide healthy food and cover hospital bills.
Even in a short time with HoD, Nunuk has begun to blossom. She used to be very shy and not share much of her heart, but now, slowly, she is more talkative and growing closer to the HoD family.
Nunuk is a very patient and consistent worker. She loves to work from home but also spends a few days at week at the HoD workshop. She is diligent and willing to learn new things.
Martin
Martin was from a small town outside of Malang where work was scarce. Seeking to support her family, she moved to Singapore and Hong Kong to work as a housemaid. Later, wanting to start a new life she came back to Malang and worked at a small printing company and bakery, and then at a restaurant working the late night shift. But after some difficult life circumstances, Martin had to leave and found help through HoD and their network of friends. She found a place to stay, learned how to sew, but more importantly, she found support and family.

HoD cofounder, Ida, says ,"Martin a really hard worker and very responsible with her work. She wants to try and always improve herself. She's joyful and has a heart to serve others. If we need anything she is always ready to help." She is now training a new lady to HoD how to sew our hand stitched throws.

Martin lives and now works at the orphanage where she and her daughter live. They thrive in the family environment and receiving the love of Jesus through those who work there.

HoD cofounder, Lila, says, "Martin used to be insecure and play it safe. She never made decisions for herself. Now she has confidence because of the discipleship and love she's received from her new family at the orphanage and HoD."